Ultimate Wheel Cleaner Guide
Ultimate Wheel Cleaner Guide by Liquid Finish
Here at Liquid Finish we often get asked for the most effective wheel cleaners on the market. In our Wheel Cleaner Guide we cover the safest and most effective cleaners on the market for any professional or enthusiast. It is essential to always be safe and allow your products to dwell in the right environment.
Wheel Cleaners: Gel & Foaming
Gel foaming wheel cleaners dwell, cling, and ultimately cling to surfaces to allow for proper cleaning. The most advantageous point of gels is that they are ultra safe for all surfaces and are PH balanced. The disadvantage to gels is they create so much foam within curves and holes that rinsing takes a long period of time. Also gels are more expensive. I'd rate the cleaning strength at medium. To properly use such gel foaming wheel cleaners, its best to rinse the surface slightly to allow some liquid on the wheel. Spray the cleaner in a wide spray on the wheel, then begin to agitate vigorously.
Sonax Wheel Cleaner one of the safest and most effective. All wheel types including aluminum, alloy, clear coats, painted wheels. Acid Free, pH balanced this formula initially sprays as a green foam then changes to red as the brake dust is broken down. Agitation helps the iron breakdown occur faster.
1Z Einszett Colourtec Wheel Cleaner a new cheaper and foamier version of Sonax Wheel Cleaner.
P21s Wheel Cleaner Possibly the best first wheel cleaner you can buy due to its safety and ease of use. Can dwell for over 2 hours or even overnight on stubborn brake dust. Non acid, non lye based, safe for every surface.
Wheel Cleaners: Spray On, Rinse Off
Spray on wheel cleaners can vary widely in strength and chemical solution. The most advantageous point of spray cleaners are they are generally inexpensive and do not sud as much so rinsing is very easy. The disadvantage of sprays cleaners are they can vary widely in pH level and cleaning strength. You must be aware of the metal surface and chemical interaction occurring. Dilute products and remember the recommended chemical dwell time. To properly use such spray wheel cleaners, it is best to wet the surface, dwell, monitor strength, agitate lightly, and rinse adequately. There is a huge variety of of wheel cleaners choose from.
Professional:
Poorboy's World Spray & Rinse Dilutable to 50% or 1:1. Strong Strength
Safe for clearcoated, painted, chrome, and plastic hub cabs. Not safe for uncoated wheel or hot wheels without testing and dilution. Professional grade yet effective for an enthusiast. Citrus acidic blended high pH formula is meant to be sprayed on and used without any agitation except for rinsing. I've used this product to remove burnt on staining with slight agitation, its strong stuff for very neglected wheels. As a precaution use goggles, gloves, and protective clothing.
Meguiar's Wheel Brightener. Dilute to 4:1. (1:1 or 1:10) Strong Strength
Safe for all non-anodized wheels and factory coated wheels. Spray and leave on for 30-45 seconds, then rinse off. Wheel Brightener is strictly for professionals looking for a fast acting cleaner. A common trick is to spray WB on the backs of rims to remove all burnt in brake dust. It is very common to have color discoloration of wheel emblems if used incorrectly. Product has an approximate pH of 5.5. If you don't know how dangerous Ammonium Bifluoride is, please don't use.
CarPro IronX – Iron Removal to the rescue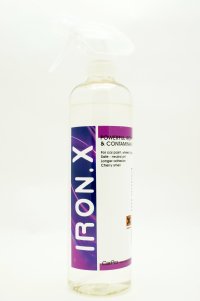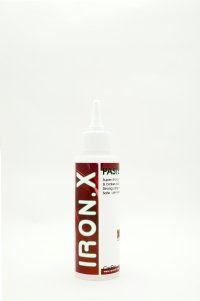 Often it is essential to use an iron fall out removal product such as CarPro IronX or IronX Paste. By attacking the fallout, contamination, and iron deposits on a wheel there is no need to use an overly strong wheel cleaner. Safe for aluminum, chrome, alloy wheels, and anodized surfaces.
Other Professional Options
When all else fails there are a number of professional products either highly alkaline or acidic in nature. It is essential to use proper eyewear, protective clothing, and gloves to cover your body. Strong products can be used occasionally in the right setting. Do note using any of these products can easily harm the surface of your wheels:
Automagic MAGnificient – A high suds – non acidic solution for use on coated, aluminum, chrome, painted, wire, plastic, white walls, and stainless wheels.
Malco Brake Off – alkaline cleaner for the worst European Wheels
Brown Royal – Very popular non acid cleaner readily available online. I would warn anyone to be aware of anything non acid and yet still extremely strong on wheel surfaces.
Basic Cleaners
It might seem crude and odd to use an all-purpose cleaner. Any good chemical formula will not harm rims and be very cost-effective. Please use at your own risk, at the right dilution, temperature, and agitation level. A few specific general cleaners that do very well.
If you have light dirt, well maintained wheels, or properly sealed wheels car soaps can work quite effectively.
Amazing Roll Off – Acid free wheel cleaner so safe it can clean clear coat, tires, white walls, vinyl tops, convertible tops, fiberglass, mildew, and act as an engine degreaser. Spray on wet surface and rinse away. Follow dilute instructions for boat, car, and RV cleaning. An "Amazing" cleaner that cleans every possible surface.
Optimum Power Clean. An all-purpose cleaner usable at full strength for bug, tar, wheel wells, and wheel. Use 3:1 for leather, vinyl, plastics, painted surface, and engines compartments. Many detailers use it as a prep foam solution to remove all residues and also for the wheel area when strong strength is not needed.
Chemical Guys Citrus Wash & Gloss. Cleans and lubricates high for a car shampoo. At a high dilute strength can clean basic wheels and foams extremely well.
Optimum No Rinse Please see the No Rinse Guide to see the versatility of this waterless wash. Great for very low dirt and lack of need for a heavy cleaner.
Thanks for reading our ultimate wheel cleaner guide. By personal reference after reading this wheel guide we suggest to our own clients to use 1Z Einszett Colourtec Wheel Cleaner. For vehicle that are problematic CarPro IronX is by far one of the safest yet most effective iron fall out removing products.